The Tomato Lovers' Guide to Every Locally Used Type of Tomato
Tomato-tomahto, they're all the same – right? Wrong! There are dozens, if not hundreds, of different types of tomatoes available. Each one brings with it a unique taste and texture. That's why, when trying new sauce recipes or a new dish entirely, you want to make sure you are paying attention to which type of tomato the recipe calls for and which one you are grabbing at the store.
The complete tomato lover's guide to the best type of tomatoes is extensive. If you enjoy shopping locally or only want to use the freshest tomatoes in your dishes, then read on. Here at Spizzico's, we only use the best tomatoes found in the northeast! Some of the most popular types of tomatoes include:
The Roma Tomato
Roma tomatoes are a preferred variety for canning, making sauces, and even for use in salads. They are egg-shaped and approximately three inches long. Also called plum tomatoes, they are great for snacks because they have few seeds and aren't nearly as juicy as other variants. This makes them less messy for on-the-go snacking.
The Early Girl Tomato
Often referred to as the "classic tomato," the Early Girl tomato is a medium-sized fruit with a bright, vibrant red coloring. This tomato gets its name because the fruit typically reaches maturity within 50 days of planting the crop. That makes it a favorite for those who want to see fast results. The Early Girl is also preferred as it is an indeterminate variety. This means it will continue to produce fruit until external factors kill it off.
The Beefsteak Tomato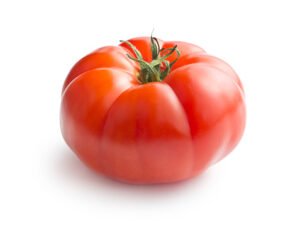 These tomatoes earn their name thanks to their large sizes. These tomatoes can grow as large as 450 grams (1lb) each. This variety is known for its thick flesh and pinkish-red tones and is a favorite for slicing on sandwiches. Not only are they large, but they are also big in flavor. Most describe it as having a savory, smoky flavor.
The Big Boy Tomato
The Big Boy tomato is similar to the beefsteak in that it's a large fruit. How big? It often producing fruits between 1 and 2lbs in weight! Again, these tomatoes are great for slicing and adding to sandwiches. Big Boys are also considered an indeterminate vine. As stated above, this means it will continue bearing fruit until an external source stops it.
The Juliet Tomato
Juliet tomatoes are great for those who enjoy a meaty, sweet cherry tomato. These fruits have a shape similar to that of grapes and have a tougher outer skin that resists cracking. These salad-friendly tomatoes are quick harvesting and typically reach maturity within 60 days of planting.
Spizzico Uses Only Quality Ingredients
Here at Spizzico Italian Kitchen, we pride ourselves on using the best types of tomatoes in each of our recipes! It doesn't matter if it's our Spaghetti with tomato sauce or our bruschetta – we use only the freshest tomatoes with the best taste.
Don't believe us? Why not come by and put our menu to the test? We are conveniently located in Arnold, Maryland. You can stop and try one of our many amazing dishes for yourself! Have any questions or want to put in an online order for takeout? Contact us today! Also, check out our blog for other fun topics on pizza, pasta, and more.