The Story of Spaghetti and Meatballs
Ahhh, Spaghetti and Meatballs. It's a dish that instantly warms the hearts of families all across America. The chewy noodles and comforting taste of tomato sauce, meat and cheese form the perfect combination. But, do you know where spaghetti and meatballs come from? We'll give you a hint: it's not Italy.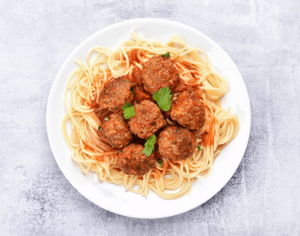 The story of spaghetti and meatballs actually starts here in America. The first chapter begins when Italian immigrants came to the U.S. The Italians loved eating pasta and marinara sauce. But, their version of "meatballs" was very different. They called them polpettes, and they were a lot smaller. And, they didn't eat polpettes on their pasta.
But soon, they discovered the hearty American meatball. These meatballs were made from ground meat, usually beef, pork or turkey. Not to mention, they were delicious and affordable. Finally, before we knew it, it was happily ever after for spaghetti and meatballs.
The Story Continues
Now, you can order the dish at restaurants all around the country, including here at Spizzico's. It's easy to make at home, too. When kids, teens and even young adults are first learning how to cook, it's usually one of the first dishes they learn to master.
You can also find other variations. You'll see some people replace the meatballs with shrimp or sausage. And, the classic marinara sauce comes in a variety of different flavors. Spaghetti squash is also becoming more and more popular. In fact, there's even such a thing as spaghetti-flavored ice cream. And of course, Campbell's SpaghettiOs are a favorite among kids.
Even though spaghetti and meatballs are so popular in the U.S., you still won't find the combination served in Italy. But, if you ever find yourself dining in Venice or Naples, don't worry. There are still plenty of other great Italian pasta dishes to choose from, like gnocchi and ravioli.
How Well Do You Know Spaghetti and Meatballs?
If you love spaghetti and meatballs, test your knowledge below. The answers are listed at the very end. No cheating!
True or False: Traditional Italian meatballs are made with breadcrumbs.
True or False: The Italian word for "noodle" is Nudel.
True or False: Spaghetti has its own national holiday.
True or False: The biggest meatball ever recorded weighed 222.5 pounds.
True or False: The average spaghetti noodle is 14 inches long.
Enjoy Spaghetti and Meatballs Today
In the mood for some home-style spaghetti and meatballs? Though the dish has evolved over the years, we think it will always be an American staple. Visit Spizzico Italian Kitchen in Arnold, MD for lunch or dinner. Choose meatballs, meat sauce or crumbled sausage to go over your spaghetti. There's also a spaghetti and meatballs dish available on the kid's menu. Moreover, don't forget to take advantage of our $8 pasta deal, which runs Monday through Friday, 11:00 am – 3:00 pm.
Answers:
True. Meatballs are still made with breadcrumbs today, just not as much.
False. The Italian word for "noodle" is spaghetto. Nudel is German.
True. It's on January 4th.
True. It was made by Nonni's Italian Eatery in New Hampshire.
False. The average spaghetti noodle is 9 – 12 inches long.